Pacific Northwest Volcanoes Open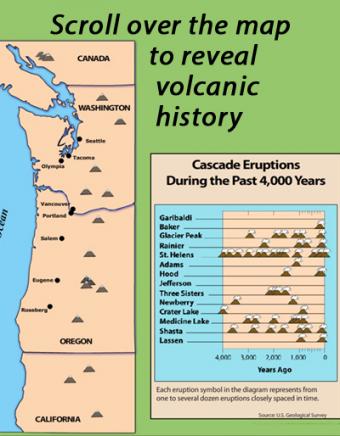 Learn about the volcanoes of the Pacific Northwest Cascade Range mountains by scrolling over individual volcanoes on this interactive map. Gives height, latest eruption, and other notes. Also shows the 4,000-year eruptive history on a US Geological Survey chart of volcanoes.
VIEW the interactive in a separate tab, by clicking on "Open Resource". (Note some browsers lack the plugins for rollovers.)
OR click Download All. AFTER downloading, you can Open either:
by using Flash player, or
by clicking File > Open from within your browser, find the file on your computer, and it should open as an interactive file.
Keypoints:
There are at least 16 major Cascades volcanoes
Not shown on map are smaller eruptive centers that fill in between the larger volcanoes
Mt. St. Helens erupted the most recently, but others have had activity in past few centuries.
The eruptive history of Mt. St. Helens is the most studied of the volcanoes, so it appears to have the most eruptions on its timeline. As more is learned about the age of eruptions at the others, they, too, will have more volcano icons on their timelines.