Asperities on Strike-slip Fault: Spaghetti in Vise as an Analogy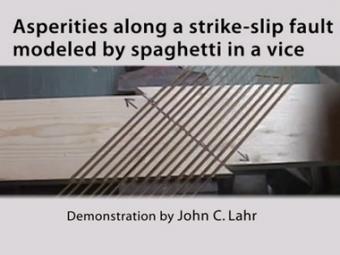 Do faults break all at once, or in many short segments?
This demonstration, squeezing uncooked spaghetti noodles in a wood template set in a vise, effectively shows how asperities (stuck patches) on a fault rupture at different times. There are many asperities, or rough stuck areas along the interface of the adjacent walls of a fault. When one asperity slips, there is an added load on the adjoining asperities. In a large earthquake there is a cascading effect as each zone that slips loads the next zone, which then slips, and so forth, sometime for hundreds of miles, in a process that can continue for 5 or more minutes. Narration by John C. Lahr.
Objectives:
Spaghetti noodles in a template provide an analogy for asperities on a fault
Vise is an analogy for regional stresses on a fault
Foreshock, mainshock, and aftershocks are modeled
Keypoints: