Pacific Northwest vs. Japan Tectonic Setting Open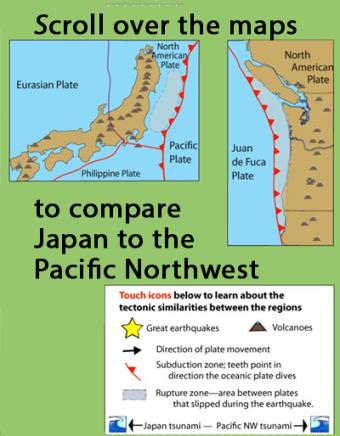 Learn how the Pacific Northwest tectonic setting and megathrust earthquake of January 1700 is similar to the catastrophic earthquake in Japan in 2011 by touching icons on this interactive map. Includes, location of Great earthquakes, volcanoes, direction of plate movement, subduction zone, rupture zone and tsunami extent.
ABOUT TO GO AWAY: IRIS is going to discontinue Flash animations in 2020. If you have a Flash player app and would like a copy, download this .swf file.
Keypoints:
What do these subduction zones have in common?
Both have volcanoes lined up parallel to the plate boundary
Both have had Great earthquakes
Both have faster moving oceanic plate diving beneath a slower plate
Both have generated tsunamis that traveled across the Pacific Ocean