Pakistan: Earthquakes and Tectonics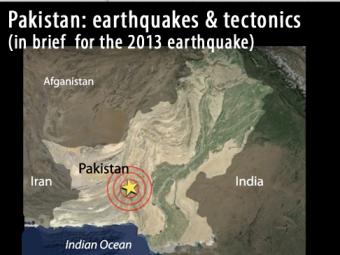 Pakistan is split along the boundary between the Eurasian and Indian plates where the India plate slides northward relative to the Eurasia plate in the east. The Eruasia Plate is also being shoved by the Arabia plate as it subducts northward beneath the Eurasia plate along the boundary south of this map. These motions typically result in north-south to northeast-southwest strike-slip motion.
A powerful earthquake killed at least 39 people when it struck a remote area of western Pakistan on September 24, 2013 earthquake. Most of the fatalities were thought to have occurred after hundreds of mud-walled homes collapsed. The earthquake was felt across Pakistan when it struck at 4:29 p.m. local time. Residents rushed into the streets as tall buildings swayed in Karachi, the country's most densely populated city (11.6 million), 270 km south of the epicenter.
This animation accompanied an IRIS Recent Earthquake Teachable Moment for that earthquake: http://www.iris.edu/hq/retm/event/2057