Home Hazard Hunt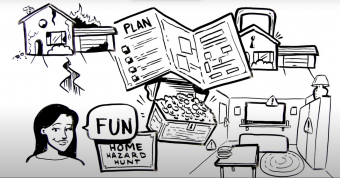 Used with permission from:
How can I make my home more earthquake-safe?
You never know where you might be when an earthquake strikes. For this reason, it's important to ensure that your home--or any other place where you spend significant amounts of time--is as earthquake-safe as possible. In this video, the Washington Emergency Management Division walks viewers through a Home Hazard Hunt in order to identify and fix some of the most common earthquake hazards in the home, including unsecured furniture and appliances.
These are only a few ideas! The WA EMD's Prepare in A Year Guide, Section 12-Home Hazard Hunt has more ideas on how to identify potential home hazards.
Keypoints:
Earthquakes and other disasters can strike any time, without warning

A home hazard hunt is an easy way to identify and fix potential earthquake hazards in the place you live