Haiti Earthquake 2010—10 years later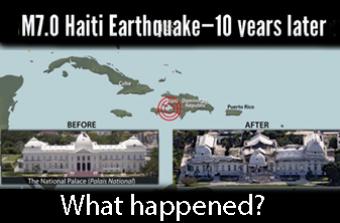 Why was this earthquake so devastating and deadly?
The human impact of the 2010 Haiti earthquake was horrendous, with estimates of at least 100,000 and likely up to 200,000 fatalities and over one million people left homeless. Haiti's magnitude 7.0 earthquake struck a country where few buildings were built to engineering standards and were hopelessly fragile in the grip of such a strong quake.
This animation discusses the tectonic setting, the history of M 7 earthquakes in Haiti, as well as the aftermath of the earthquake.
For a slide presentation made in 2010 following the earthquake, see: https://www.iris.edu/hq/retm/event/918

Keypoints: