Welcome to the Autonomous Polar Observing Systems Workshop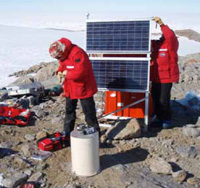 Great progress has been made in the design and installation of stationary autonomous ground-based polar observing systems. This workshop will focus on expanding and maintaining these systems, and on developing greater cooperation between the various scientific, technical, and logistical communities. Specific goals include:
Discuss new opportunities for the major scientific disciplines involved;
Review progress and compare experiences with the current systems. Address issues related to reliability and discuss "best practices";
Explore new technologies that may have significant implications for autonomous polar observing systems and enable exciting new science;
Identify strategies for maximizing the scientific return from field sites, including standardization of power and communication systems, co-location of stations, and reduction of logistical requirements;
Consider options for increasing communication and coordination between communities in the long term.
Organizing Committee
Important Dates
Hotel Reservation Deadline
HOUSING REGISTRATION CLOSED
---
Workshop Registration Deadline
REGISTRATION CLOSED