Party in the USA
July 8th, 2013
Happy (belated) 4th of July! After spending the weekend at the beach in LA, I'm ready to get back to business.
Three updates on the project:
1. A comparison of the first term of the 2-Psi fit data I have collected compare well with the data from Laske et al. (2011), in which measurements of shear velocity are also made but with a different method (2-station path-averaged dispersion curves), which makes us more confident that these recent results are a good representation of the velocity structure beneath Hawaii. Below is an image showing results from the method of Laske et al. (left), and the results I have obtained so far (right). Phase velocity anomalies (%) are measured relative to Nishimura & Forsyth (1989) velocity values for Pacific plate between 52 and 110 Myr, where red is slow and blue is fast. I hope you feel the patriotic spirit behind these plots! These plots may improve as we try to incorporate the differential pressure guage data from the SWELL pilot experiment and from Phase 1 of the the PLUME project to get better resultion close to the Islands.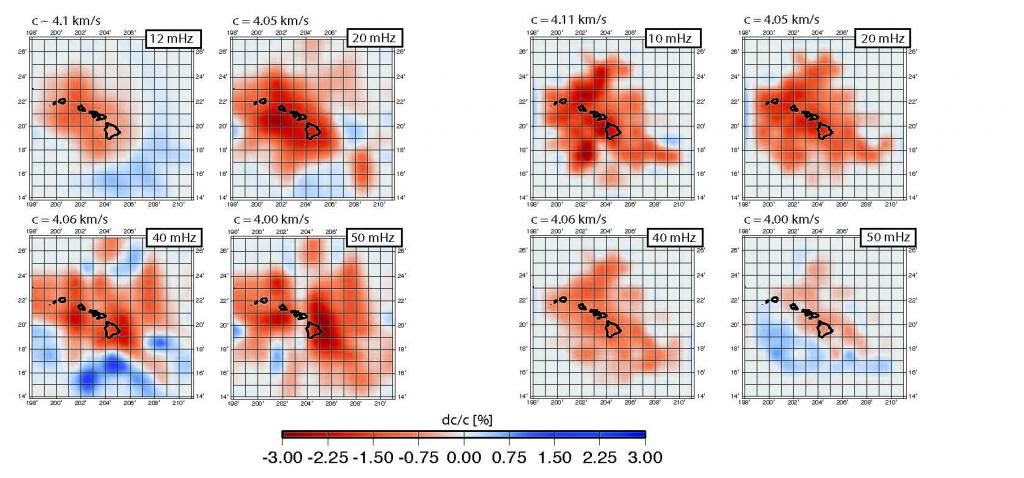 2. After looking through the results from various combinations of land/OBS data, my mentor and I have decided to discard the data from the land stations, but counter-balance the resulting decrease in geographic coverage of azimuthal anisotropy measurements by expanding the tolerance of triangle size to an average side length between 1 and 7 degrees. The result will be a decrease in resolution, especially in areas to the northeast where there aren't many smaller triangles that provide azimuthal anisotropy measurements over a smaller area. I have generated 284 anisotropy measurements, for which there are typically 80-180 events contributing to the 2-Psi fit, to plot changes in azimuthal anisotropy in an ~13x13 grid around Hawaii. Below I show an image of a histogram of the number of events contributing to each anisotropy measurement, and a sample of how the 2-Psi (yellow line) fit to the event data (grey = raw data, red = binned data) are used to determine the direction of the fast axis (the azimuth corresponding to a local maximum in phase velocity) and the amount of anisotropy (%).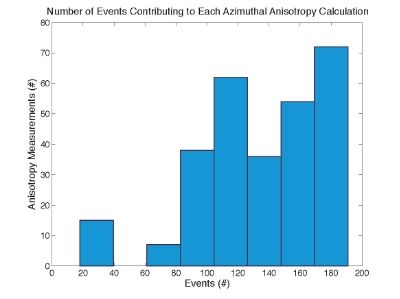 Now I'm working on using the data from the 2-Psi fit of the phase velocities of azimuthal anisotropy to generate a map that shows how azimuthal anisotropy changes with frequency both in magnitude and direction. Because there are so many measurements, I plan on binning and averaging the fast-axis directions after setting them all within a 180-degree range, and plotting those over a smoothed grid of binned/averaged % anisotropy measurements. I'm currently not sure the best way to plot line segments representing the direction of anisotropy based on azimuth, but looking through the manual it seems like tilted thin rectangles may be a good bet. Vectors may be good as well except I don't want to get an arrowhead because that wouldn't be representative of the fast-axis measurement. I'm open to GMT suggestions!
3. Now that we have made these measurements, I think we will be starting the inversion to measure azimuthal anisotropy with respect to depth (from our measurements based on frequency) soon!
Comments