I sense a tremor in the force…
June 28th, 2011
In light of having a Star Wars marathon last week that phrase really stuck out! I wish I had Darth Vader's ability to sense tremor, but since I don't I have find tremor using SAC and GMT. I was successful in writing a few scripts that make my life a whole lot easier. My daily routine during the week consists of me finding a decent sized earthquake, larger than magnitude 8.0 and downloading the information of of IRIS's Wilber site. As I am looking for triggered tremor in Alaska I select the Alaska Regional Network and if it's available the Alaska Volcanic Observatory stations. Depending on when the Earthquake occurs I have anywhere between 17-56 stations to work with. As I found out it is much easier to find tremor if you have more stations. I need to confirm it on more than one station, preferably three, but when I only have 17 stations that becomes very difficult and I have to throw out what looks like really good tremor because I can't confirm it on any other stations (this is really frustrating). The goal is to find triggered tremor by hand and soon I will start working on a code to hopefully automate the process. I found tremor by hand and I will be seeing if my code can find the same thing, it should be fun, I enjoy programming.
My attempt at organizing my data: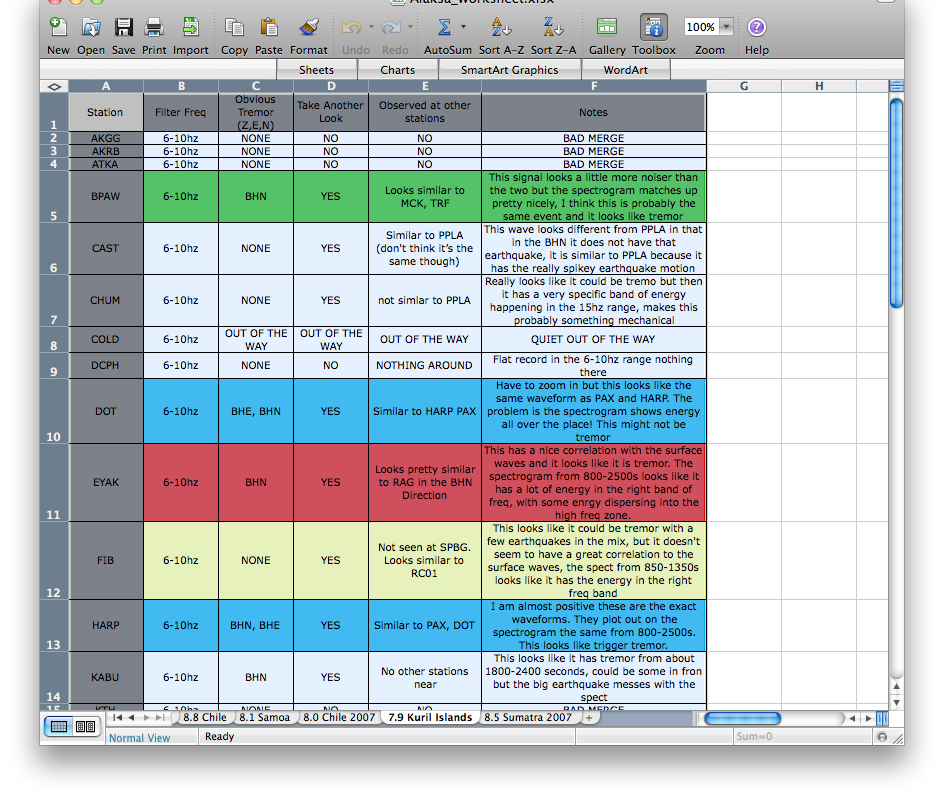 The hardest part of this whole process has been the challenge of trying to keep everything organized! I have worked through 7 big teleseismic events. I found the easiest was to use a spreadsheet and mark stations that had similar signal. If I do this I can go back and look at them in detail grouped together because if it's by itself I can't use it anyway. I have also been using screenshots like crazy! They seem to be the best way to allow me to go through and glance at the data because even though I wrote scripts and it only takes a few commands to filter and display my data it is still very time consuming. If I take screenshots I can quickly glance at what I think is tremor and what is not, if I am not sure I can pull up the data. I usually go through an earthquake group similar signals, then go back through the similar signals that might have tremor take screen shots and mark them so I can go back to them easily.
I USED THE FORCE TO FIND THIS TREMOR!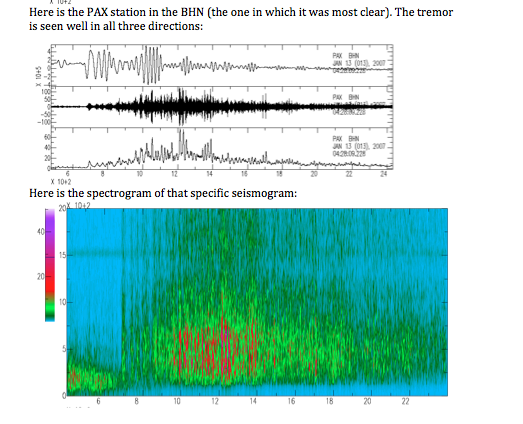 I have also been reading a statistics book, since I don't know anything about statistics and also studying for the GRE which I am going to try and take before I head back to Reno. Martin, Lizzie and I are thinking about going to a Reds game and possibly a shooting range in Kentucky! Oxford is pretty quiet but there are a lot of people in the apartment complex and Martin and I played volleyball with a lot of people last night for a couple hours. It was really fun.
Till Next Week!
Comments
You must be logged in to post a comment.