Do You Hear the People Sing?
August 9th, 2013
My mentor is back! She was at a conference for the last 2-3 weeks, and so aside from email communication and some general guidance given pre-trip, I was flying pretty solo.
I learned a lot though while she was gone. Every day I would come in and work down my ever-evolving to-do list of things I thought would make the project better, and when I thought I had made an interesting comparison or obtained some meaningful result, or needed to make sure I wasn't screwing something up, I would email Gabi. Because I'd submitted my AGU abstract in early July before she left, I was very worried that because we were making interpretations part way through the analysis, that further analysis would reveal serious problems in our initial interpretations. And then my abstract would be all wrong. So while she was gone I incorporated 576 more anisotropy measurements around Hawaii, figured out how to calculate a weighted standard error, created new plots in GMT to compare the raw azimuthal anisotropy measurements to the binned azimuthal anisotropy measurements, changed my binning procedure a couple times... and on the last day before she came back I felt really tired and decided to go snorkeling.
But I completely understand why I need a mentor/advisor. Because when she came back and I met with her and her colleague Donna Blackman - walking through a stack of images I'd created to summarize the project so far - I felt like the number of great ideas to pursue and thoughtful interpretations of the data completely exploded. And articles that contained analysis that needed to be compared to our results were mentioned off-hand that I really wish I had thought to look for over my three weeks flying solo.
So now that there's a little over a week to my internship, it's time to invert these data to change results from measurements with respect to frequency to measurements with respect to depth. And create my AGU poster. And finalize my analysis that I'm writing up in my "ResearchJournal.tex" document, which has somehow become a 30-page running list of theories and methods and results and images and explanations for why methods I decided not to use don't work. And fix some of the figures I'm created with vectors that really aren't legible - because when there's too much data on a map my solution is to make all the data smaller. If I have time, I'll figure out how to plot my inversion results just like Figure 2 of the Montelli 2004 plume article, which does a brilliant job of adding a depth perspective to a bunch of rectangular maps of seismic tomography results. And maybe re-do my weighted averaging and error calculation procedures based on some of the ideas I came up with Gabi and Donna - like nearest-neighbor smoothing that also takes into account the quality of each anisotropy measurement in the weighting process. But actually - I really just want to take this all back to school with me and keep working on it, because there's no way I can get these things finished in one week. On the bright side, with 810 measurements of azimuthal anisotropy around Hawaii - I think we have a really great final data distribution (knock on wood...) to work with - to really understand how the anisotropic structure beneath Hawaii changes with depth! And I am REALLY excited to go to AGU in December.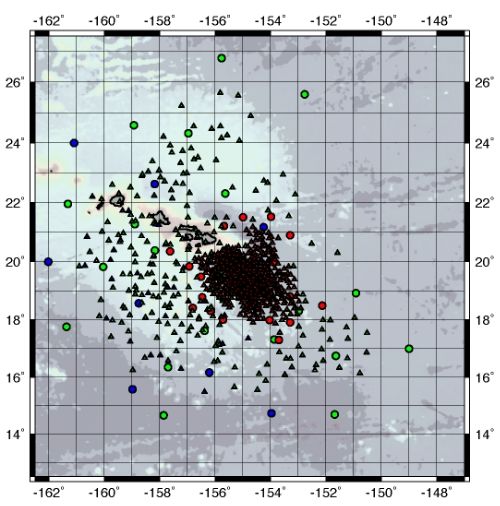 Comments
You must be logged in to post a comment.