3…2….1….Commence Research!
June 18th, 2011
So it was my full first week at Miami University this week. A lot of time was spent reading papers and familarizing myself with GMT and SAC (Seismic Analysis Code). The first part of the week this is all I did. But on thursday Mike made it into the office and gave me a brief overview of what I will be doing. In my own words, not in the description above, I am looking for triggered tremor. Tremor from my understanding is very low frequency earthquakes without defined S and P waves (this makes them hard to locate, especially in the vertical direction!). Tremors baisically look like noise and they are very low in amplitude. So this summer I will be filtering through seismograms of different earthquake events (I started with the most recent 9.0 in Japan) to look for this noise that is triggered by surface waves. From seismograms of triggered tremmor mike showed me it looks is like noise in synronization with the body waves. It is important to understand this "triggered" tremor because there is a lot of debate (due to the lack of constraints on location of tremor) if tremor is caused by friction between the surfaces of a fault zone or if it fluid flowing through the area. If I can locate enough "triggered" tremor it is a very strong support for the tremor being located on the surface of the plates supporting the frictional hypothisis because it is triggered by a stress change which means it was locked at the fault interface.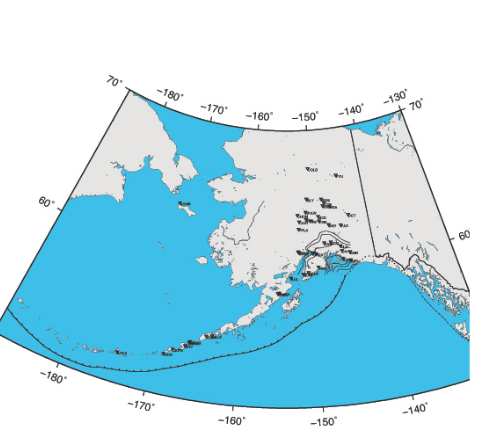 Have to post it cause I am getting pretty ok at GMT :D, here are the stations I am looking at with my data. (that is the subduction plate interface with the gradient of the estimated depth to the bottom of the plate near the center.
Today I did some laundry and had some food but have been working on locating all of my stations. I looked up the location of all the stations and then made a quick GMT map of the stations I will be looking at. I am still trying to work out how I am going to keep all this data organized because I have so many stations and not all of them will have tremor. I need to find a way to keep track of the stations I have looked at and the stations I haven't looked at. My idea right now is to keep a spreadsheet of all my stations and just keep my observations as notes. The other thing I did today (took me forever) was to create my own shell script that lets me control the filtering and then plots the filtered seismograms on the screen so that I can review them. This is a lot less tideous as I only have to type one command per station instead of about 20. I am going to take the day off tomorrow and get my classes back home figured out, but looking forward to using and abusing my code come monday.
This is what I will be looking at all summer. Those are two filtered wave forms from the same seismogram. That is close to tremor but I am pretty sure it isn't.
Anyways till next week!
Comments
You must be logged in to post a comment.