New Madrid: Find the Faults using Seismic Data Open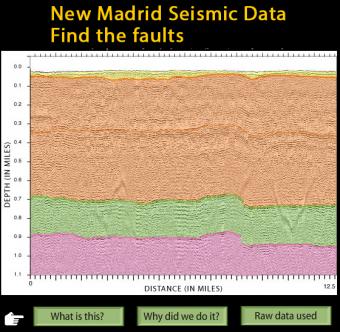 Raw seismic data gives us information about the ground beneath us. This interactive cross section shows faults beneath the New Madrid area.
The tabs above link to related interactives and animations.
VIEW the interactive in a separate tab, by clicking on "Open Resource" then scroll over named features. (Note some browsers lack the plugins for rollovers.)
IRIS may be discontinuing these interactive animations in 2020. This file is an HTML5 file that uses a browser to view.
Keypoints: