EarthScope Reception and Symposium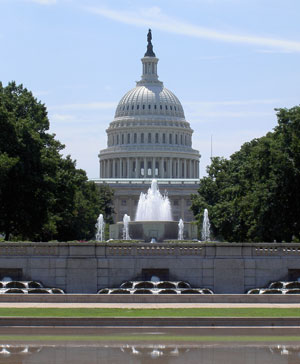 April 29, 2009 5:30 - 8:00 PM
Capitol Hill - Washington, DC
Where:
Top of the Hill Banquet & Conference Center
Reserve Officers Association
One Constitution Avenue, NE
Washington, D.C. 20002
Symposium Speakers and Agenda Now Available
Download Directions (PDF)
A celebration of the successful first 5 years of EarthScope recognizing the contributions of agencies and institutions who have been essential to EarthScope's accomplishments!
View displays and state-of-the-art equipment
Learn about recent Earth science discoveries
The purpose of this community-sponsored event is to acknowledge and recognize the contributions of the National Science Foundation, its partners, and the numerous organizations and agencies throughout the government that have helped make the first five years of EarthScope such a resounding success. If you are a scientist, policymaker or other information consumer whose work benefits from EarthScope data, this is an excellent opportunity to express your appreciation directly to the individuals and organizations that have helped EarthScope in ways both large and small.
In addition to the evening reception, a short symposium will be held to highlight EarthScope science results. Please Join us from 3:00 - 5:30PM at the Top of the Hill conference room on the fourth floor.
NOTE:
EarthScope Reception attendees may also want to plan their visit so they can participate in the 14th Annual Science-Engineering-Technology Congressional Visits Day, which takes place on April 28-29, 2009. The CVD is a two-day annual event that brings scientists, engineers, researchers, educators, and technology executives to Washington to raise visibility and support for science, engineering, and technology. More details can be found on the CVD web site at www.setcvd.org.
We hope to see you in Washington, D.C., on April 29.
Please direct any e-mail inquiries to esevent@iris.edu
This reception is being sponsored by a coalition of earth science organizations.